In order to keep your Tile and Grout Looking great, and extending the life of your Tiled surfaces, we have developed a new systematic approach to Remove, Repair, and Restore your Tile and Grout: The
REVIVE SYSTEM.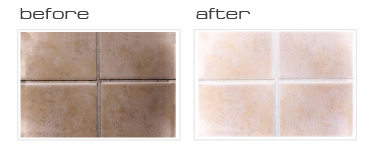 Over time, grout between your tiles can become stained, and unsanitary. With all of the harsh chemicals that can be used to clean surfaces in the workplace today, your Tile and Grout can become porous and fill with dirt. With the REVIVE system, we will take out all of the discoloration and bacteria from your Tile and Grout, and actually form a protective coating over the areas that will act as a barrier against impurities that can reduce the life of all of your Tile.

We have developed a highly effective process of extracting all stains, bacteria, and odors from your grout. We use state of the art equipment to effectively grind all of the unwanted layers off of your tiled areas, leaving a bright, sanitary surface to work on.

This process works to color and repair any part of the surface areas that your tiled areas may need. We use a unique process of coating the grout to keep it looking at it's very best as well as leaving a protective coating to keep out any unwanted moisture from causing new discoloration, and impurities.

We have developed a finish covering that is applied to the entire surface area, that makes it extremely durable while at the same time keeping the color and beauty of the tiled surface protected against anything that may come in contact with the coating.